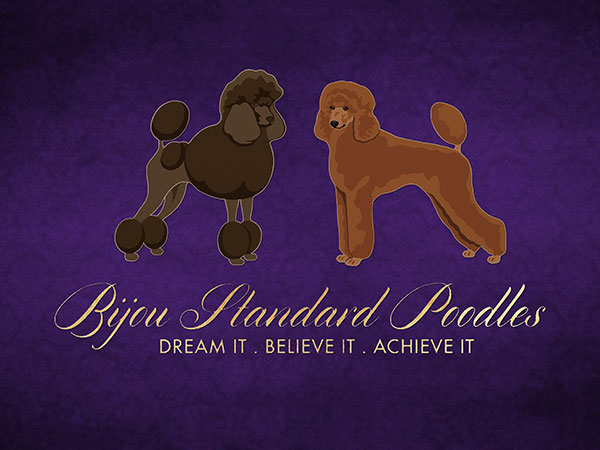 !! AVAILABLE PUPPIES !!

Meet Our Poodles... Our References... Web Page Links

Questions Answered... Whats New at Bijou...Bijou Difference

Contact us: brownpoodles@yahoo.com


We read a ton of misinformation out there about Standard Poodles
I would like to clear up a couple misconceptions, that are most common:

NO, it is not normal, for Poodles to routinely have bloat or torsion.
This is a genetic predisposition, poodles can also be at risk if not free fed.
There is no need for the very invasive "tacking" surgery for Poodles with clear lines and free fed.
Bijou Poodles we own, are 25 years of being Bloat and Torsion free.

NO, not all Poodles are hyper, busy or high strung.
Our Poodles are calm, loving couch potatoes inside and Athletes outside
We have spent 25 years selectively breeding, for health and calm, sweet temperaments

LASTLY, every breeder can "SAY", our Poodles dispositions are wonderful
that our Poodles are structurally ideal, that our Poodles are Healthy or are Smart.
~ Talk is Cheap ~
Bijou Standard Poodles actually PROVES THIS, by
EACH of our Poodles passing all OFA and DNA health clearances
EACH of our Poodles achieving Temperament Titles, Working Titles
and of course, Conformation (Show) Titles. Of course doing all the above
means we also have an amazing relationship, with each of our Poodles.
Bijou Standard Poodles really does
"Walk the Talk"
Why would anyone settle for less.


"NO FRU FRU DOGS IN OUR HOME"



~ MEET OUR POODLES ~

*Click on their names to be taken to their web pages




OUR FEMALES

CKC Best in Specialty Show Brace (Poodle Club of Canada)
Best in Specialty Show BBE (Poodle Club of Canada)
UKC 2x Best in Show Brace
CKC Champion, UKC Champion
"Spice"
PTN, PTA, PTS, AKC CA
Brown Female



UKC Grand Champion
CKC Grand Champion
"Charm"
S.P.O.T., PTN, PTA, PTS, PT2, PT3, NC, URO1, UAGI, RATI, CA
AKC CA
CKC's FIRST Brown Standard Female Grand Champion in HISTORY !!
UKC's #3 Standard Poodle in the WORLD for 2016
Brown Female



CKC Champion
"Bell"
Red Female




CKC Grand Champion
"Poppy"
Canadian Kennel Club's First Red Grand Champion in HISTORY !!



Grand Champion
"Dare"
S.P.O.T., URO1, URO2, RN, RATI, UWP, PT1, PT2, PT3, PT4, PT5
PTA, PTS, PTM, PTE, NV, NC
UKC's #9 !!! TOP STANDARD POODLE 2011 !!!
Red Female



UKC Champion
CKC Champion
"Pyro"
Red Female





OUR MALES
(Our boys live with friends and family)
~ Available for Stud Service to AKC Registered Standard Poodles ONLY ~
golden x poodle (aka goldendoodle), lab x poodle (aka labradoodle)
or any dog, without AKC/CKC/UKC Registration papers
IS A MUTT






Champion
"Dream"
URO1, URO2, URO3, CA
UWP, UWPCH, WPT1, AKC RN, AKC RA
Brown Male



Grand Champion
"Razz"
S.P.O.T., URO1, URO2, URO3
CA, CAX, UWP, UWPCH, WPT1
AKC RN, AKC CA, CGC
Red Male



Grand Champion
"Valor"
S.P.O.T., URO1, URO2, URO3
AKC RN, AKC RA, CGC
~ 2x TOTAL DOG AWARD ~
Red Male



Grand Champion
"Price"
S.P.O.T., CGC, URO1
Red Male



S.P.O.T., UAG1, UAGII, CA, CAX, URO1, URO2, URO3 (HIT), URX, UROC, UCD
5 X Altered Total Dog
11x Best in Show , 2x Best in Show Speciality, 16x Reserve Best in Show, Alter Champion
"BIJOU'S FINNEGAN AVON"
SPOT, CGN, CGC, CGCA, RATI, RATN, CRNCL, AKC CA, AKC CAA, AKC CD,
AKC RN, AKC RA, AKC RE, CKC CD, CKC RN, CKC RA, HIC, BH
~ 5x TOTAL DOG AWARD ~





An average day in the life of Bijou Standard Poodles




...............
~Click to view our Browns~................~Click to view our Reds~





ITS A POODLE PARTY !!




(Poodles in the Spring)

As Ethical Reputable working dog owners, we will not own any more poodles than what we can fully care for.
This means owning only the number of Poodles at a time than we are able to care for and personally train and work daily.
Our pups are ALL raised in a home, not in a kennel which you can view on our MANY videos taken since 2006.
We only breed on occasion, with future goals in mind, which is constantly improving on our dog's progeny
and each generation to produce our next loving Companion, Champion, Service or Working Dog
by combining lines in various ways that will in the future to produce our
~Total Poodle~



(Poodles in the Summer)


Because we can't keep every puppy that doesn't meet our strict criteria for a show/breeding potential, puppy people can enjoy the benefits
of obtaining as near a breed standard "ideal" as we can get with the darkest intense colours we have achieved and of course the
amazing calm sweet temperaments that we are so world famous for out of healthy and tested parents
who have a Championship ~AND~ a Working Title (Beauty and Brains) and completed all their OFA health testing.




(Poodles in the Winter)

~ TOTAL WORKING POODLE ~

Health ~ ALL Our Poodles have passed all conclusive OFA Health Testing, low COI's and we breed only Poodles in top condition
Brains ~ ALL Our Poodles have a WORKING Title, which means breeding Intelligent poodles with a PURPOSE.
Temperament ~ CGC Titles and breeding only calm, loving Poodles to maintain our world famous reputation for breeding amazing Poodles
Looks ~ Our Poodles have Correct Conformation (according to Licensed Judges) proven by ALL our Poodles being Champions or Grand Champions
~ all while improving coat colour through over 23 years of Experience and Research ~


We don't just "say" we have Total Dogs
We have the TOTAL DOG AWARDS to prove it !


Breeding is an expensive "HOBBY"....my goal is to produce my next Champion, Working Dog Partner and Companion.
This Hobby is a study in genetics, possibilities, potential, filled with many challenges and few rewards...
Conformation/Show Titles we accomplish are a physical assessment tool achieved by Breeders that is done by Professionals
Performance Titles we accomplish are a mental assessment tool achieved by Breeders that is done by Professionals
Health Testing we complete is a guide for Breeders to breed towards eliminating and avoiding health problems.
Breeders working towards producing a "TOTAL DOG" will use ALL these available tools at their disposal.
~ No Excuses ~










*Click here to view Our Retired Kings and Queens