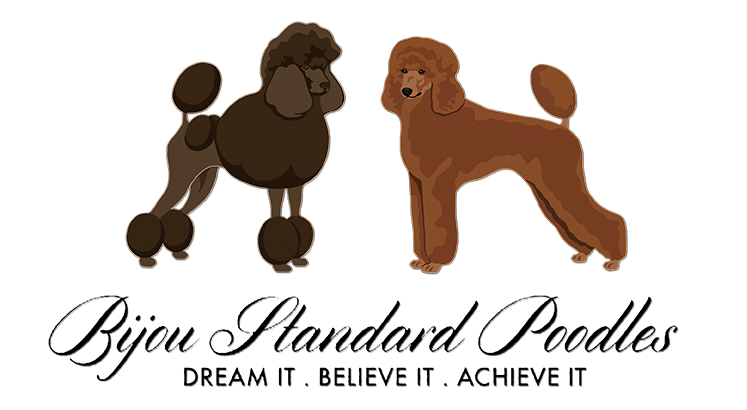 !! AVAILABLE PUPPIES !!

Meet Our Poodles... Our References... Web Page Links

Questions Answered... Whats New at Bijou...Bijou Difference

Contact us: brownpoodles@yahoo.com



~ We do not live off our Poodles, we live for our Poodles ~
We have full time jobs, to afford to care for our Poodles and to participate in their Dog Sports

"Home of Working Poodles"
* Bijou Poodles are world famous for our CALM, Loving Natures *
AND
*Beautiful, CORRECT, Conformation*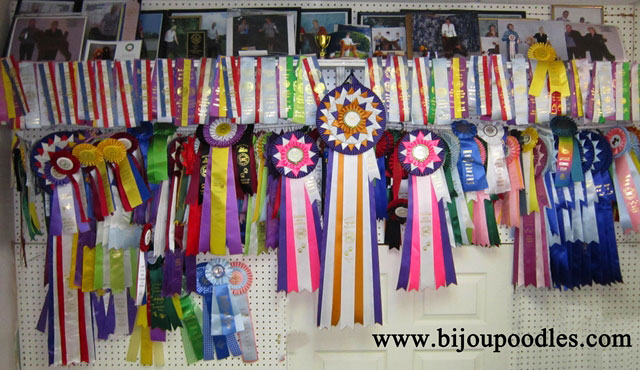 (only a portion of our many awards as of 2006)

Showing, Trialing and Working as Partners with our Poodles
is not about the many Awards and Accolades we have achieved,
it is about the wonderful quality of life we are able to offer our Poodles
and the special bond we have with each of our Poodles
and is proof of the Health, Intelligence and Superior Lineage, our Poodles come from.
Reputable Breeders ~ do stuff ~ with Poodles they "produce" and have the titles to prove it.


AVAILABLE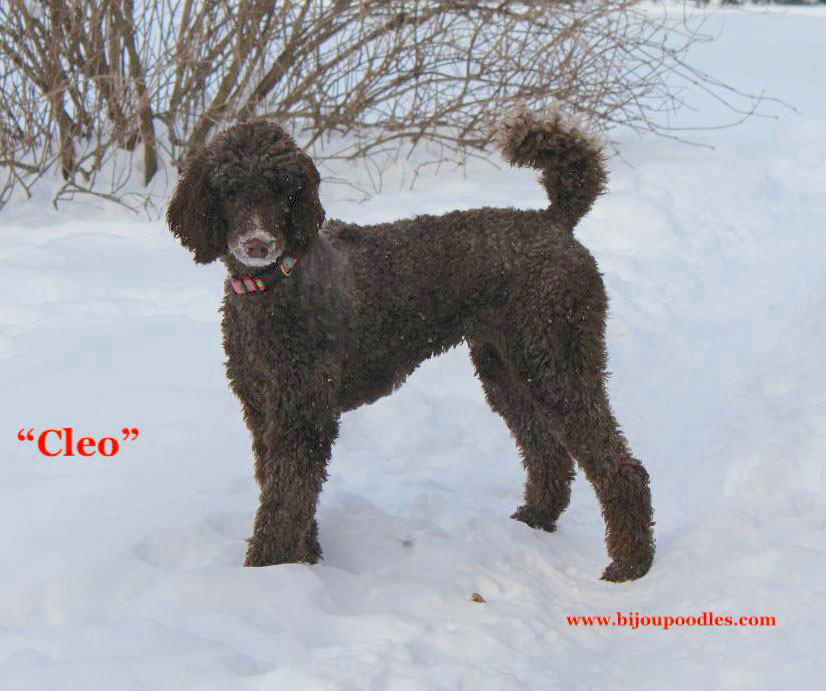 Spayed Female 2.5 year old, 27" and 55 lbs dark brown
for adoption: $ 800.00
SORRY NO SHIPPING
We wish to keep Cleo close should new owners need any assistance
this means keeping her in Niagara Falls area

House Trained, Obedience Trained, Crate Trained
All the work has been done for you.

One of our poodles, we rescued from being dumped in a Shelter
by her owners when their new baby arrived !

This poor girl is in BIG need for a loving owner who will spend time
with her. She has just been so neglected, rejected and ignored.
Cleo is loving, eager to learn and please
she yearns for a owner that will play with her and teach her some tricks.
Cleo is used to humans constantly rejecting her and it took a few weeks before
she trusted she can get hugs and affection from humans.
In the shelter and in the dog parks her owners brought her to
she was attacked by other dogs, so it has taken a few weeks for her
to learn not all dogs are out to attack her.

She has now been taught to do an amazing heel (in 2 minutes)
and come when called (took a bit longer) as she loves the keep away game.
She is amazing in the cage, will be quiet and content for long periods
as that is where she spent the majority of her time growing up.
Cleo needs an experienced owner, that will continue with her teaching,

This means for the first 6 months to a year
never letting her off leash in public places, never allow her on the furniture
or bed and do not let her wander willy nilly through the house (so disrespectful)
Until she listens to her new owners and respects them, basically earning privileges.
She needs to first respect her new owner, and will do this by earning privileges and praise.
NO DOG PARKS EVER (so dangerous for dogs)
and I need a home that will not fail her again.

She is house trained never messes in the house
she does like to collect socks and or slippers, bringing them to her bed.
Cleo is tolerated by her Poodle cousins and she is learning to trust them too.
*Click to view our Movie Night with the kids
*Click to view Cleo with cousins
*Click to view Cleo February 4, 2018

Cleo LOVES to run and runs like the wind.
If someone could get her playing fetch that would be great.
She would excel in a home where someone wanted to do Dog Sports
such as agility. She is fearless, and has a huge sense of humour
and is now learning how to play with toys,
and she would be an amazing jogging partner.
She is super quiet and content in the house.

I'm looking for a home with no other dogs (she could annoy the heck out of them)
and no young children as Cleo likes to herd and round them up
and illicit play with everyone and she is a BIG girl that does not know her size.

Someone committed to teaching Cleo and spending time walking/jogging with her
and playing with her, will have a lifetime enjoying the most devoted
grateful, loving, funny, beautiful companion that anyone could ever wish for.



Cleo on the cushion and Ruby on the floor





THE FUTURE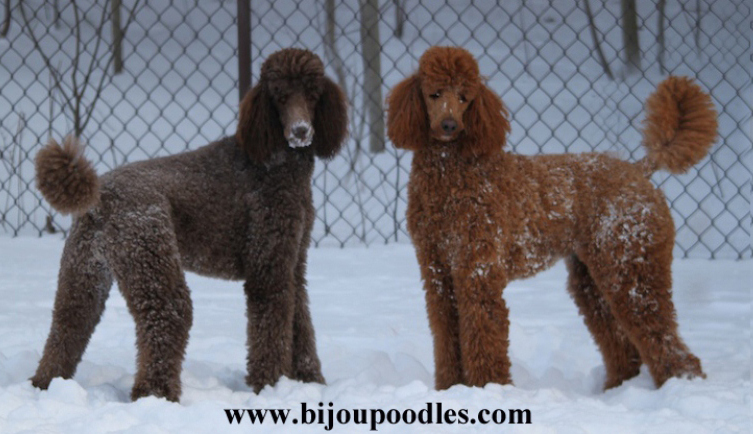 Applications and deposits are now being accepted
~ All emails are answered within 24 hours
~ Monday - Thursday ~
To learn more about our location, prices and how to adopt one of our pups
*Click here





~Click to view our Reds~................~Click to view our Browns~
Half way down both page are photos of our pups and the same puppy as an adult
with their height and weights for you to see what you should expect your puppy to mature to look like.
PLEASE view the information to help you determine
if we have the Poodle type and size you would like to own.
Please also take a minute to check our References



WHAT WILL THE PUPS GROW UP TO LOOK LIKE ?

Lure Coursing Conformation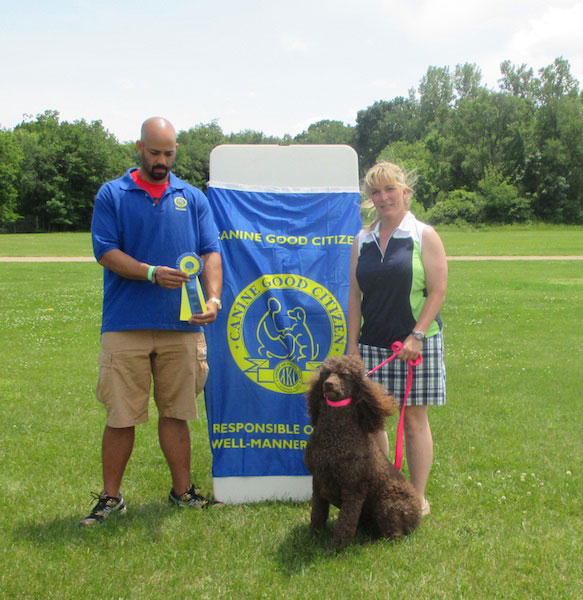 CGC Title
We don't just "SAY" we have TOTAL POODLES
we have the TOTAL DOG AWARDS to prove it !!


We will take back any of our Poodles, at any time, at any age and for any reason
no questions asked, we are 100% committed to each and every Poodle we produce.




YOUR PUPPY COMES WITH:

* Extensive puppy package
* Owner's Manual (training, feeding instructions)
* Tails and dewclaws done
* Microchip ID (NCAC Approved FDX B ISO Microchip)
* Up to date deworming
* Health Record
* Food Sample (enough for a couple days) unless we are prohibited
* Toy with mom's and siblings scent on it to ease into the transition to your home
* Blanket with mom's and siblings scent on it to ease into the transition to your home
* Collar (they do outgrow them so fast)
* Leash 4' to start out with
* Registration papers
* "2" year Health Guarantee
* Family Tree (4 generation photo pedigree)
* 24-hour, 7 days a week, life time, breeder support.
* Photo of mom and dad, grandparents, great grandparents, great great grandparents
* Weekly video and occasional photos of the pups as they are growing up displayed online





Please make sure before you buy from a breeder that you go to the OFA web page
and search their kennel name. I can't believe the number of breeders that mislead the public
and say that their parents passed health testing and they have not. If they are not listed on OFA site, they are not done.
We are one of the VERY few red breeders that OFA our Poodles for every "conclusive" health screening
available and as they become available, such as but not limited to:
Hip Dysplasia, Elbow Dysplasia, Patella Luxation, Thyroid Disease, Legg-Calve-Perthes, Degenerative Myelopathy
Congenital Cardiac Disease, Von Willebrand's Disease, Neonatal Encephalopathy with Seizures Disorder,
PRCD-Progressive Retinal Atrophy, RCD-4-Progressive Retinal Atrophy, CERF, Congenital Macrothrombocytopenia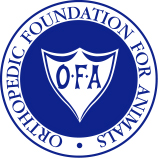 ** ATTENTION ALL BIJOU POODLES **

(Finnegan, Reigna and Finn)

In 2011 Bijou Poodles made AKC and UKC History
by producing the FIRST Standard Poodles with AKC and UKC Lure Coursing Titles,
(of course they also went on to obtain Best in Show, High in Trail wins and Rally Titles ALL with 1st in Class Wins)
In 2012 we made UKC and IWPA history by having the first red Standard Poodles to achieve Weight Pull titles
In 2014 we made UKC history by producing the first Standard Poodles with Barn Instinct Awards
In 2015 we made UKC history by producing the first Red and Brown Standard Poodles with Nosework Titles
In 2016 we made UKC history by producing the first S.P.O.T. titled Standard Poodles !!
In 2016 we made CKC history by producing the first female Brown CKC Grand Champion !
In 2017 we made CKC history by producing the first Red CKC Grand Champion !
CURRENTLY we are looking at making history again, in some new Dog Sports and you could be apart of this.
Bijou Poodles is looking for some of our amazing pups to Show, Weight Pull, Dock Dive, Race and do Disc Toss
If you think you might wish to give it a try at NO INITIAL COST, please get in touch with us: brownpoodles@yahoo.com
Fun, Prizes, BIG RIBBONS and an opportunity to reunite with your brothers and sisters !!
Here are some of the events that we will be doing: *Click to view our Events
~ Click to view what Bijou Poodles are up to ~





THE BREEDER
Breeding is my expensive "HOBBY"....my goal, is to produce my next Champion, Working Partner and Companion.
Breeding is my studying genetics, possibilities, potential, filled with many challenges, and few rewards...
Conformation/Show Titles I accomplish, is a physical assessment tool done by Licensed Professionals
Performance Titles I accomplish, is a mental assessment tool that is done by Licensed Professionals
Health Testing I complete, is a guide towards eliminating and avoiding health problems.
Breeders working towards producing a "TOTAL DOG" will use ALL the available tools, at their disposal.
~ No Excuses ~


I Believe......
I believe there are no perfect breeders, just breeders that try to perfect their "hobby".
A breeder needs a full time job, to afford this expensive hobby "if" they are breeding as a "hobby"
If a breeder does something new and unfamiliar, they will be deemed bad... until everyone else starts doing it.
A breeder's accomplishments will always be diminished by other breeders, until other breeders are achieving it.
If a breeder is not being talked about, then they are not doing enough towards improving their breed or to raise the bar.
A breeder that bashes other breeders, only does so, because they have nothing good to say about their own dogs
Yet despite all of these truths, Great Breeders, continue to strive on towards their ideal vision and goals.
~ 2011 Bijou Standard Poodles ~












~1990~ Typical Brown Bijou Puppy
This photo shoot was done for a Poodle Calendar
our Poodles have been featured in too many magazines, books, Calendars to list, because of their beauty
Photo has been over "brightened" so you can see his sweet expression.



We understand you need information to help you
make an educated choice on your lifetime companion.
that is why we have spent hours to make sure our web page
contains tons of information and answers to commonly asked questions.
I am always happy to email you out further information or photos
that you would like to see, usually within an hour.
Although we would love to chat on the phone with everyone
who is interested in our amazing puppies,
it would be most unrealistic because of the high volume of interest we receive.
We have decided the best way for us to have time for our
dogs and ourselves is to be readily available by email.
Sorry for any inconvenience this may cause.
Reputable Breeder since 1989.
Please email me for more information and pricing:
brownpoodles@yahoo.com



Applying for a Standard Poodle Puppy


Thank you for your interest in a puppy from Bijou Standard Poodles.
Our goal is to place our puppies in permanent homes
where they will receive the love, care and attention they require
in order to live a long, happy, healthy life. We care deeply about each puppy
that we bring into the world. We thank you for your cooperation
in providing us with as much information about your family
as possible in order to find the best puppy for you.
Pups raised in our home with their parents.
See the difference Pups raised by a small caring breeder makes.
We are "world" famous for our calm temperaments (under our K-Lar & Bijou Prefix).
Our pups are from Therapy Dogs who love to cuddle on the couch watching a movie with us
but are athletic and healthy enough to run 10km every day with us.

We would love to talk on the phone about our dogs to everyone
who emails us, but that would mean we would be
on the phone for over 8 hours a day at least.
In order for us to properly take care of our dogs
and have some private time,
we will be available by email for inquiries about the pups.
This also allows you "written" answers to your questions.



Typical looking brown puppies at 8 weeks.
Although we would love to meet everyone wishing one of our puppies in person,
we realise this isn't always possible. We believe everyone deserves a great dog to cherish.
We ship within North America
to loving homes
We have been using Air Cargo for many years
and we trust them to provide safe and consistant
service for our precious puppies.




"weeee... "
(Brown male 2005 Litter)