Brown and Red Standard Poodles of Quality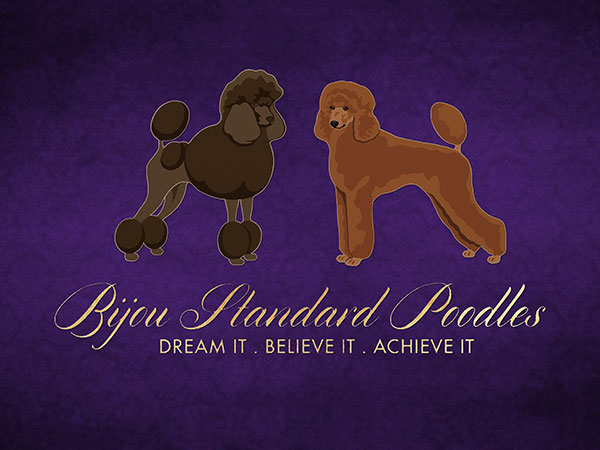 !! Available Puppies !!..... Meet Our Poodles

Contact us: bijoupoodles@yahoo.com



~ Dark Brown Standard Poodles & Rich Red Standard Poodles ~


"Home of Working Poodles"

NOT A BUSINESS
I HAVE AN INFORMATION PACKED WEB PAGE
TO SHARE ALL OUR ACCOMPLISHMENTS, AND BRAGS, OF MY POODLES
AND TO HELP OTHERS, NEW TO DOG SPORTS, AND OR NEW TO POODLES
OUR NAME IS TO HELP IDENTIFY OUR POODLES WITH AWARDS

~ Poodles are not born with Pom Poms ~

Our Poodles are our cherished pets. Solid Temperament is our foundation.
On rare occasion, we may have pups we are not keeping, available for adoption.
Our Poodles are working dogs, that have calm, stable temperament, beauty,
intelligence, health with unique magnificent color, still fairly rare still to this day.

I own poodles that I can walk through a china shop with and then
go do some dock diving or boating at the cottage or go run a 6 km distance with me
and in the evenings go to the hospital with me to do Pet Therapy with elderly patients.
I have intelligent loving poodles that will cuddle for hours, want to be with me and that don't shed.
I have great poodles that will do everything that I want to do and also be physically capable of doing it all.
This is why we do all that we do , with our Poodles
because we want to ensure our Poodles will be great pets AND working dogs.
It really is not asking too much to demand the TOTAL PACKAGE ;)


...............
~ Click to view our Browns ~ ................ ~ Click to view our Reds ~


Real Dogs .... for Real People !




(Our expecting Mother helping me answer emails)
CONTACT US:
Bijou Standard Poodles
Niagara Falls
Email: brownpoodles@yahoo.com
(I will get back to you within 24 hours)